Browse Rental House Listing By Location
Why RentMyStay?
Fully furnished and ideal for short term and long term rentals.
Choose between short term renting and long term renting based on your need best alt to Service Apartments and hotels.
Bangalore's largest network of curated rental houses
Rent for Any Duration
Zero Brokerage Charges
Families, Couples, Friends, Singles Welcome!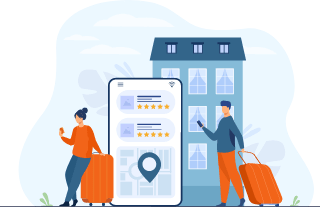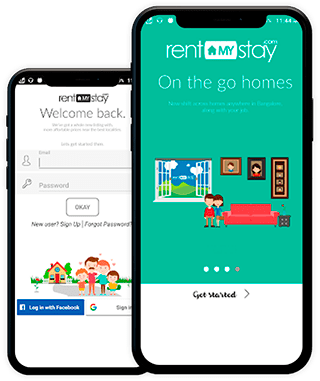 Download RentMyStay App
Search, book and manage houses for rent in Bangalore effortlessly.
Scan QR-Code to download our App
Playstore
Appstore
Happy Customers!
Reviews from our customers who stayed with us in furnished and semi furnished house for short term or long term rentals.
I recently moved to Bangalore, since I may have to relocate as per job need I wanted a fully furnished house. With RentMyStay I found a flat with all amenities and comfort of a home. My family liked it. The best part about them are they do not charge any brokerage.
I was relocating to Bangalore for job change. I was searching fully furnished house for rent, my search ended on RentMyStay. The best part was No brokerage and completely furnished home at the affordable cost. Great Work Guys.
Meghna Menon
Stayed @ BTM
For new guys like me into this metro city, RentMyStay was a great support .The checking process was as easy as checking to a hotel. It helped me find fully furnished house for rent even for the short duration without brokerage. I could choose this rather than a service apartment.
Abhishek
Stayed @ Koramangala
I got shifted from Chennai to Bangalore and was looking for temporary accommodation and found RentMyStay. I wanted a place within the budget of 15k. RentMyStay team helped me with exactly what I was looking for. I would definitely recommend them if you are looking for house for rent, furnished house paying guest or service apartment.
Pawan Kumar
Stayed @ Electronic City
RentMyStay was an easy way to find flats. I was here for 2 months with family .It was a life saviour for me as I was searching for the short duration. They provided Short term renting plus with a very less deposit, we were provided with all the amenities and comfort of a home.
I relocated to Bangalore with my family and was searching for furnished apartment and found RentMyStay. As, the handover procedure got extended by a month and I had just landed from US,RentMyStay was a life saviour for us .They provided flats with no brokerage and all the amenities . All the best Guys!!!
I would like to share my experience with RentMyStay. I am happy that I am able to find an accommodation with the help of RMS. My stay is good till now and the services provided by RMS is also appreciable. Definitely, I would recommend RMS to my friends and relatives whosoever wants a hassle-free accommodation in Bangalore.
Pradeep Dagar
Stayed @ HSR
I am Suman, I would like to say its been a wonderful and fruitful stay in Rentmystay apartment, it is just like a home away from real home, the amenities are so good that we are not experiencing any difficulties. Also the responsive staff are so good that they respond for any difficulties within stipulated amount if time. I would recommend my friends to stay.
We feel very pleasant and luxury in your Rent My Stay apartment. We experience as if we live in our own house without any disturbance of the Land lords. I studied the motive of running such a Firm ,from your website. Your's is service oriented. When ever we happen to come bangalore, our first choice will be Rent My Stay apartment. Please continue this service continuously. I hope.
I had an amazing experience staying with Rentmystay. I was thinking about how I can find the best budget service apartment in Bangalore, but when I hit this website my question was answered. The fully furnished apartment is even better than a service apartment as it comes with all the benefits of a service apartment plus there is no one to disturb and price is so cheap. Also, it is a feeling of staying at home.
I chose the 2bhk house located at HSR layout near Agara lake, I was a bit nervous about the gender friendliness of the rental property, but it turned out to be very welcoming and a great place to stay for a monthly stay in Bengaluru. It is an ideal option for monthly rentals. The rooms are spacious, clean, and have all the amenities you would need in one place. The customer service is also excellent they are prompt in their responses and it helped me in having a hassle-free stay.
Lahari
Stayed @ HSR Layout
I had a memorable experience renting a furnished house.
I wanted to find a short term stay with my Girl friend so I searched for service apartments. Then, I found a perfect 1 bhk furnished house for rent from rentmystay website. For the first time we felt comfortable that no one would come into our private space during our stay.
This 1 bhk furnished house is located at Kundanahalli, Bangalore. The house is furnished with all amenities including a functional kitchen. I and my girlfriend could also cook ourselves and spend quality time together.
The apartment is also located close to a hypercity mall, restaurants and movie theatre so we could have nice weekend time. This place was very near to my work location at Accenture, RMZ ecospace, Marathalli, Bangalore.
In all it was a dream stay for me.
Nithish
Stayed @ Marathahalli
I am student studying at XIME, Electronic city, Bangalore. My internship was at ITPL, Whitefield. Since the internship was for 2 months and away from college I wanted to find a house for temporary stay, I did not want to stay in a paying guest due to covid.
I found a single room with kitchen and attached bathroom within my budget at Nellurahalli, Whitefield through rentmystay. The property was less than 2 km from my work location plus it was fully furnished with Kitchen.
Since I shared with flat with my fellow colleague who also doing an internship at vydehi, ITPL, Whitefield. It worked out at less than my hostel stay. I had the added benefit of privacy and close proximity to my work location.
Really thankful to RentMyStay for helping me find a cheap yet quality stay during my internship.
Ram Biradar
Stayed @ Whitefield
I wanted a stay for medical reasons in Columbia Asia Hospital near Bellandur as my daughter was going through medical treatment. I was looking for a place that is with in reasonable distance to hospital. They had options in Kasvanahalli and HSR, I chose the one located in HSR and was happy with the flat and amenties provided. They have fully furnished house with kitchen and all the amenities such as gas stove, cooker and kitchen items. I was able to cook food for me and my daughter and it was home like feeling to stay there. They had options of 2bhk, 1bhk and Studio flat but I chose the 1bhk as it was spacious and sufficient for me and occuational guests. I could not have stayed at hotel as I needed kitchen and Service apartments with kitchen were expensive so the fully furnished flat with kitchen provided by rentmystay was a very good option for me plus it was super affordable. I would definitely recommend you to use it. You will save both money and furnished house is a lot more comfortable.
Priya
(Medical Tourist @ Bellandur)
We were three girls working in Bangalore. This year, my office JP morgan chase located in the embassy golf links campus reopened after a long closure and I had no idea about the exact duration due to rumors of office relocation. My other friends working at Startup incubator in Diamond district, old airport road, and another friend working at Concentrix, Bagmane tech park also wanted to rent a house with me.
I was afraid to rent a house for the long term as my rent duration was not confirmed due to covid. Fortunately, I found a house in patels residency apartment on old airport road managed by rentmystay which provides flexible renting options for any duration. This place was centrally located to three of us and also the Short term renting option provided by them was exactly what I needed. We rented for 2 months and extended for a year once our permanent work location was confirmed by our companies. They have great rates, with all the required amenities! The place is very safe for girls as well. I will strongly recommend rentmystay.
Neha singh
(stayed @ Old airport road)
I was looking for a best furnished rental house for students in BTM layout. I was studying at christ college in BTM layout. As a student, I was looking for a cheap but quality stay. After searching a lot I found a semi-furnished studio house from rentmystay. This was a perfect place for me as the rent was very affordable and there was no brokerage to rent the house. The whole process of paying rent and deposit was online so my father could pay from Indore.
Renting the semi-furnished house from RentMyStay was a pleasant experience.
I was surprised with the quality of their service, the cleanliness of their flats and how well priced they were. This was definitely cheaper than owner rent plus I do not have to deal with the owner or pay any brokerage. I have referred 2 to 3 friends and all are happy with the stay.
I would say this is best place to rent a semi-furnished house in Bangalore.
Rithesh varma
(stayed @BTM Layout)
I have been a tenant of rentmystay for almost a year now. I am a working professional and this flat is shared by me and my friend. I work at Honeywell, RMZ Ecospace, Bellandur, and my friend works at Zolo Stays in HSR layout the daffodil apartment I choose is located centrally to both of us.
It is also very convenient for each of us to call our families occasionally. There is no disturbance from anyone. Since I am from another city I do not have to deal with brokers or any owners. All of these are handled by RentMyStay. There is no brokerage and rent is inclusive of maintenance so there is no additional maintenance I had to pay.. Since the house was already furnished I also did not have to worry about furnishing.
The house was fully set up and had everything I need in place before my move-in. This is perfect for my long stay.
Find a rented semi furnished or furnished house in Bangalore very easily with rentmystay.
Bindu Chowdary
(stayed @Bellandur)
Rentmystay has really good furnished rental homes for bachelors in kasavanahalli. My office is located at Wipro gate, Sarjapura main road. it was perfect for my kind of stay. The Pacific building located on kasavanahalli main roads, Bangalore is very calm and peaceful. The house comes with power back up and lift so my work from home was very comfortable. There is also games and sit-out area on the terrace which is ideal to freshen up.
There is a kitchen if I want to cook, plus Vishnu Sagar hotel if I wanted to eat out. The Aishwarya value mart is just at the entrance to serve my shopping needs. There is also a play arena for me to enjoy my weekend. I needed nothing more for a perfect long-term stay.
These are next-generation rental solutions. Kudos to the rentmystay team for making renting experience such a joy.
Sandeep
(stayed @Kasavanahalli)
I am a frequent traveler to Bangalore, and you know how difficult it is to find the best rental flat in any city, especially in a metro like Bengaluru. I usually used to choose hotels but since my stay are longer than a week, it is too hard to stay in hotels.
I always end up spending more time in a tiny room and eating at a hotel always is a pain. By choosing a furnished home I was able to cook my food as I had a Gas stove and all kitchen utensils provided in my 1bhk apartment. Royal white house located at BTM Layout, Bangalore was my perfect destination, as it is centrally located for my frequent commute between HSR Layout and JP Nagar. I normally chose a weeks stay and extend it to a month as required. The whole process is easy if you want to extend your stay. I have become a fan of this short term rental provided by rentmystay. This is ideal if you are a frequent traveler. Staying at a hotel is gone after these options.
Ramesh
(stayed @BTM Layout)
I was looking for a new place to stay along with my friends.
I work at Accenture, Bellandur and my friends work at Bagmane tech park and another one at Mahadevpura. We were looking for a central place from where all there could commute easily. When I approached rentmystay they suggested me a flat at kundalahalli, marathahalli and Doddanekundi. I selected the 2bhk house located at doddanekundi, which was ideal for us as it was centrally located for all three of us.
The 2 bhk house was fully furnished with a kitchen, fridge, wifi, sofa, TV, cots etc., so we didn't have to buy any furniture. The property was located in a good locality and with very nice ventilation.
We instantly booked the place and we have been very happy with the stay at our fully furnished house in doddanekundi. Very thankful to the team for all the support so far.
Anand Sai
(Long Stay @ Doddanekundi)
I randomly hit upon the rentmystay app when searching for property and it found the properties at really affordable prices and instantly liked the place. I was looking for a furnished flat on Bannerghatta main road in Bangalore and it wasn't easy to find any that were affordable. I usually don't like staying in hotels because of their high rates and lack of amenities. As soon as I found out about the offerings by rentmystay, it solved all my issues! Luckily a studio flat located in Arekere near reliance mart, Bannerghatta main road was within a walkable distance from my office which is in kalyani tech park in Bannerghatta main road. I chose this and was happy with the stay. I vacated the house one week back and the whole experience including the refund has been very smooth and comfortable. Definitely recommend the furnished houses offered by them.
Niveditha
(Long Stay @ Arekere, Bannergatta Road)
I am a bachelor, came to Bangalore in search for a job and I was not much financially fit so I shared a studio flat with my friend. This was a semi furnished studio flat with room, kitchen and attached bathroom. The flat was located in Marathahalli, hence this was centrally located to all the major IT parks such as RMZ Ecospace, Bellandur, RMZ Ecoworld, Sarjapur outer ring road, Bagmane tech park, CV Raman Nagar, Embassy Golf Links Business Park, domlur where I was expecting interview calls from.
The Studio flat was clean and was located on the top floor hence ventilation also was very good. It has all the features that you need for your stay. the experience was good and they are collecting only 2 months rent as a deposit plus there is no brokerage and maintenance which was very good for me.

Naveen
(Long Stay @ Marathalli)
I've been living with rentmystay for a year now. I was initially hesitant to think it would be a good idea to rent online, but my doubts were unfounded. The house I chose was semi furnished and the staff is always on standby to help. The service they offer is really great and I've never had any complaints.
I work at IBM, manyata tech park, Bangalore as a software developer, I do not speak local languages so taking from RentMyStay was the best decision as I do not have to interact with owners or any brokers so everything happened online. I chose the 2bhk at Hebbal just 500 meters from Gate 1, this locality was comfortable and the house was also very good with good ventilation. There is no brokerage, all things are done online including download of agreement and rent receipts, issue of refund all done online without any physical visits. Good job guys!
Sowmya chowdary
(Long term stay @ Manyata,Hebbal)
RentMyStay is a game changer when it comes to vacationing or traveling! I was staying in PG but wanted to call my family for summer vacation. I wanted to move to a bigger house for a month so I can spend some good quality time with family plus I can eat home food. I checked their fully furnished 1bhk, 2bhk, and studio flats. I decided to go with 1 bhk as the house located at bellandur which was spacious and sufficient for me and my family. The house has a kitchen with Gas stove and kitchen utensils allowing me to cook. My work location was at 24X7, at the prestige tech park, Kadubeesanahalli. Due to being close to the office I could spend more time at home. The service was a breath of fresh air because I didn't have to worry about any of the little things. I will definitely use this service again because it was fast and easy. I do not think such service exists in other cities, I think rentmystay should offer this in all cities.
Peter
(Short Stay @ Bellandur)
We were unmarried couples and it was finding it too hard to find a house for rent. As we were looking for a posh and luxurious house in a safe place to stay for the long term. We saw a lot of 1bhk, 2bhk houses in Koramangala, and Indiranagar but did not like the owner's behavior. Finally we hit upon the rentmystay website and since the entire process was online and easily involved no broker or owner we really liked it. I shortlisted the houses from my search through their website. My girlfriend and I visited the first house GK Nilaya which comes with a balcony and modular kitchen, located in vignan nagar, close to Indira Nagar and decided to book it. I've been with rentmystay for a month now and have got the best deal in town. The house is good, the place is secure and very comfortable. We both work from home and we have been having a peaceful and great experience. There is also no owner interference. Rentmystay has the best quality apartments all over south bangalore, you can choose them for a five star experience.
Sathvik Gowda
(Long Stay @Vignan Nagar)
I have stayed at many different rental houses in bangalore but always end up having bad experiences with owners. I was looking for something that is fully furnished and did not want to deal with owners at all. I stumbled across rentmystay's website and decided to take a tour of their furnished apartments in Bangalore. The experience was amazing; they offer everything that one might need! All transactions and dealing is with RentMyStay, so you do not need to talk to the owner at all. Since I worked with TCS located in Kirloskar business park, I chose an independent 1bhk house with wifi in hebbal, kempapura. After 6months of my stay my work location changed to EGL, Koramangala as I got placed in Yahoo!. I chose the internal movement option and moved to 1bhk ready to move-in house located in ejipura, koramangala. The whole movement was hassle free. The deposit transfer from one owner to another was all handled by rentmystay. We do not even get to worry about it. The whole concept of network homes is quite good.
Sumayya Banu
(Long term stay @Ejipura and Hebbal)
I am a native of Electronic City, Bangalore and I was looking for a stay during my house renovation. I searched a few hotels and service apartments for my accommodation. The hotels were small for my family and service apartments were expensive. Then my friend suggested RentMyStay. I found a perfect place within walkable distance from my house and the place was clean, comfortable and it perfectly fit my budget. As a native of resident of Electronic City, Bangalore, I can confirm this is the cheapest and affordable stay that I could get for my uncertain duration of 3 weeks to 4 weeks. The house is furnished, hygienic, and is well maintained and just walkable distance from Wipro Gate, Electronic city phase 1. Since there was a kitchen, we could cook home food and the stay was just like at home, we also felt very relaxed and comfortable. The caretaker is so helpful, thoughtful, and attentive to every detail. Thanks to RentMyStay for making short duration rentals so easy. We no longer have to adjust in an expensive service apartment or tiny hotel.
Sundareshwar Perumal
(Short Stay @Electronic City)
I was Planning a get-together in Bangalore but was so worried about pricing. Now, I would definitely recommend my friends to rentmystay. It's not just the price that is cheaper than other places, but they have options among 2bhk,1bhk and studio. We were 4 friends, two of us working at Zolo Stays and the other two working at Stanza. We stayed in a furnished 2BHK house at HSR Layout near NIFT college. The apartment is very spacious, well maintained and hygienic with no restrictions. The house had a nice view and spacious balcony so we all had a quality time together. The caretaker was very helpful, and gave all the instructions we needed. They provided a Gas stove in Kitchen which we liked as we could cook our food since we had a vegetarian friend who was very particular about outside food. Only a few places were available to get together, so we contacted and booked in advance. Rentmystay offers great service, good quality wifi, no deposit, clean rooms, flexible renting, 24X7 booking option all at Great pricing. Personal reviews on past renters make this site a go-to for anyone traveling to Bangalore. I am so glad we found it!
Pallavi Ravi
(Short stay @HSR Layout)
I absolutely love rentmystay. I recently shifted to Bangalore and was looking for a monthly stay option to pursue a Java course at Aptech, kalyan nagar, HRBR layout, Bangalore. I was looking for a ready to move-in flat with wifi facility. Since I was also working at flipkart, I wanted to ensure the wifi is good and my work from home is not affected. I chose a 2bhk house located in Kalyan nagar, HRBR Layout, Bangalore which had a good sit out area and balcony. I am bachelor, so shared the room with a friend for a month whom i met during the course, I liked the whole experience of renting for a short term, this is very innovative compared to service apartments which are expensive with so many additional costs. After having this experience, I would never live anywhere else.
Rahul
(Short stay @Kalyan Nagar)
I have been using rentmystay for the last 2 years and never been disappointed. They are on top of their service and always go out of their way to make sure that I'm happy. I am amazed at the quality they offer, their prices are very competitive and they have a lot of options. I am a tenant of 1 bhk house located in hoodi and work location is capgemini technology and services pvt ltd, mahadevpura and my friend works at cameo global located at whitefield main road, Brigade metropolis, mahadevpura. This is an ideal location for both of us. The house is located in a good residential layout and offers great ventilation and good view. The fully furnished house has all household things such as sofa/Diwan, cot , mattress, TV ,fridge, gas connection, stove , Basic kitchen utensils, wardrobes , geyser, lift, power backup, balcony etc., prices are very reasonable which everyone can afford. Due to the owner's tie up they offer great prices which is good for me as a tenant. Thanks rentmystay folks!
Ramya Raghu
(Long term stay @ Hoodi)
It was a nice stay .. overall good experience & will surely recommend rentmystay to other people who all are looking for home kind of atmosphere in different city for short term.
RentMyStay in news
Game Changer for House Rental Trade in India
Finding or renting a Semi furnished home, Fully furnished flat, Service apartment,
Paying Guest, Hostel or Co-living space be it for short term or long term stay!
Explaning in details the various forms of accomodation or stay options given the evolution of market. One can choose now from traditonal Semi furnished house, fully furnished flat, Service Apartment, for a family or group of friends to paying guest, hostel or co-living space for ladies, gents or working men and women or boys or girl students